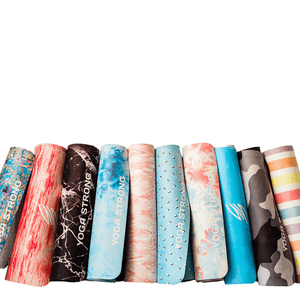 SHIPPING & RETURNS

Fast & Free Shipping $60+
Guaranteed to Ship in 1 Business Day
30 Day Return Policy
Trusted By 1000s
Just Like You
1,127 4.9/5
Based on reviews powered by Okendo
"Obsessed!!"

"I love my mat so much!! It's so fun and honestly brightens up my day, I use it pretty much everyday and can't wait to buy another!"

Kristine Verified Buyer

"Strong mat indeed"

""I'm so impressed with the quality and style of this yoga mat! The thickness is perfect. I love this design too, it's so cute!""

Allie H. Verified Buyer

"Beautiful mat"

"It's thicker, making it extra soft and comfortable for your feet. I'd recommend this mat to any active person.""

Kaley W. Verified Buyer

"This yoga mat rocks"

"Just the right amount of support and I get so many compliments on it."

Gena M. Verified Buyer

"Love my Mat!"

"I love my new Yoga Strong Mat! It's perfect for planks and everything else. It's also fun to look at while I'm working hard!"

Kacey Y. Verified Buyer
Recommended by top health experts & performers
Jason Deutchman

Former Pro Basketball Player, Certified Applied Functional Science

"I would recommend Yoga Strong to anyone that wants to perform at their optimum level, and live their best life."

Ari Vickers-Davis

Yoga Instructor, Functional Mobility Specialist

"I get asked all the time, if you could use one yoga mat, what would it be? My answer, inevitably, is Yoga Strong."

Rob Willhite

Chiropractor, Strength & Conditioning Specialist

"Yoga Strong is a game changer. I rely on Yoga Strong to preserve a hectic lifestyle as a healthy lifestyle."

Samantha Deutchman

Certified Personal Trainer & Former D1 Athlete

"For years it bothered me that I couldn't get what I needed to give me the health my body deserved. Until l was introduced to Yoga Strong."